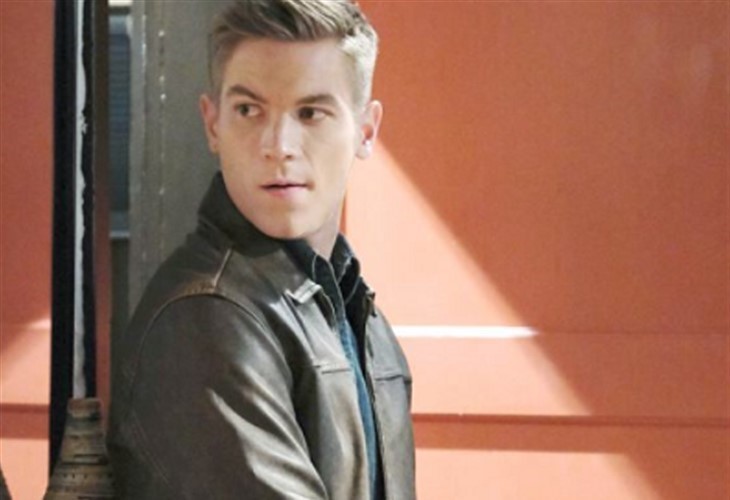 Days of Our Lives spoilers for Friday, December 24 reveal that Steve "Patch" Johnson (Stephen Nichols) and Allie Horton (Lindsay Arnold) desperately search for Tripp Johnson (Lucas Adams). Jack Deveraux (Matthew Ashford) brings Jennifer Horton (Melissa Reeves) back home. Plus, John Black (Drake Hogestyn) gets a Christmas miracle.
Days Of Our Lives Spoilers – Tripp Johnson's Disappearance
DOOL spoilers reveal that Marlena Evans aka "MarDevil" (Deidre Hall) woke up Jan Spears (Heather Lindell) from her coma. Jan and the devil have joined forces to destroy Shawn Brady (Brandon Beemer) and Belle Brady (Martha Madison). However, in order for people not to realize that Jan is missing, Tripp was put in the hospital bed. Anyone that looks in on the comatose patient doesn't see Tripp, but Jan. The only clue that it is Tripp is the bracelet that is still around his wrist.
In Friday's episode, Steve and Allie will search for Tripp. Will they realize that comatose "Jan" is really Tripp?
DOOL Spoilers – Jennifer Horton Returns
Meanwhile, Jack will finally return from Boston, where he was visiting Jennifer. Jack will come back to Salem just in time for Christmas. Jack has a surprise for everyone, which just happens to be Jennifer. Expect Jennifer to joyfully reunite with Abigail DiMera (Marci Miller), Chad DiMera (Billy Flynn), the "Chabby" kids as well as the rest of the family.
Days Of Our Lives Spoilers – Christmas Miracle
Days of Our Lives spoilers for Monday reveal that John will receive a Christmas miracle. The exorcism on Marlena doesn't begin until next week. So, could "MarDevil" finally be found? Will an angel pay a visit to John to help guide him? Or will the Christmas miracle be Eric Brady (Greg Vaughan) coming back to town to help save his mother?
DOOL Spoilers – For Friday
In Friday's episode, fans can also expect Shawn and Belle to be horrified by Jan's deception. As viewers may know, fake Belle gets into bed with Shawn. Suddenly, the real Belle walks into the hotel room. Belle is stunned to find Shawn in bed with another woman on their first wedding anniversary. Then, the woman turns to face Belle and she looks exactly like her. Imagine how confused Shawn must be and he will have to figure out which Belle is his wife.
Meanwhile, Doug Williams (Bill Hayes) and Julie Wiliams (Susan Seaforth Hayes) work with Ben Weston (Robert Scott Wilson) to protect Ciara Brady Weston (Victoria Konefal) from the devil. Will they be able to save Ciara and her unborn baby? Tell us your thoughts about the current storylines and remember to keep watching the NBC soap to see what happens next.
Be sure to catch up on everything happening with DOOL right now. Come back often for Days of Our Lives spoilers, news, and updates.