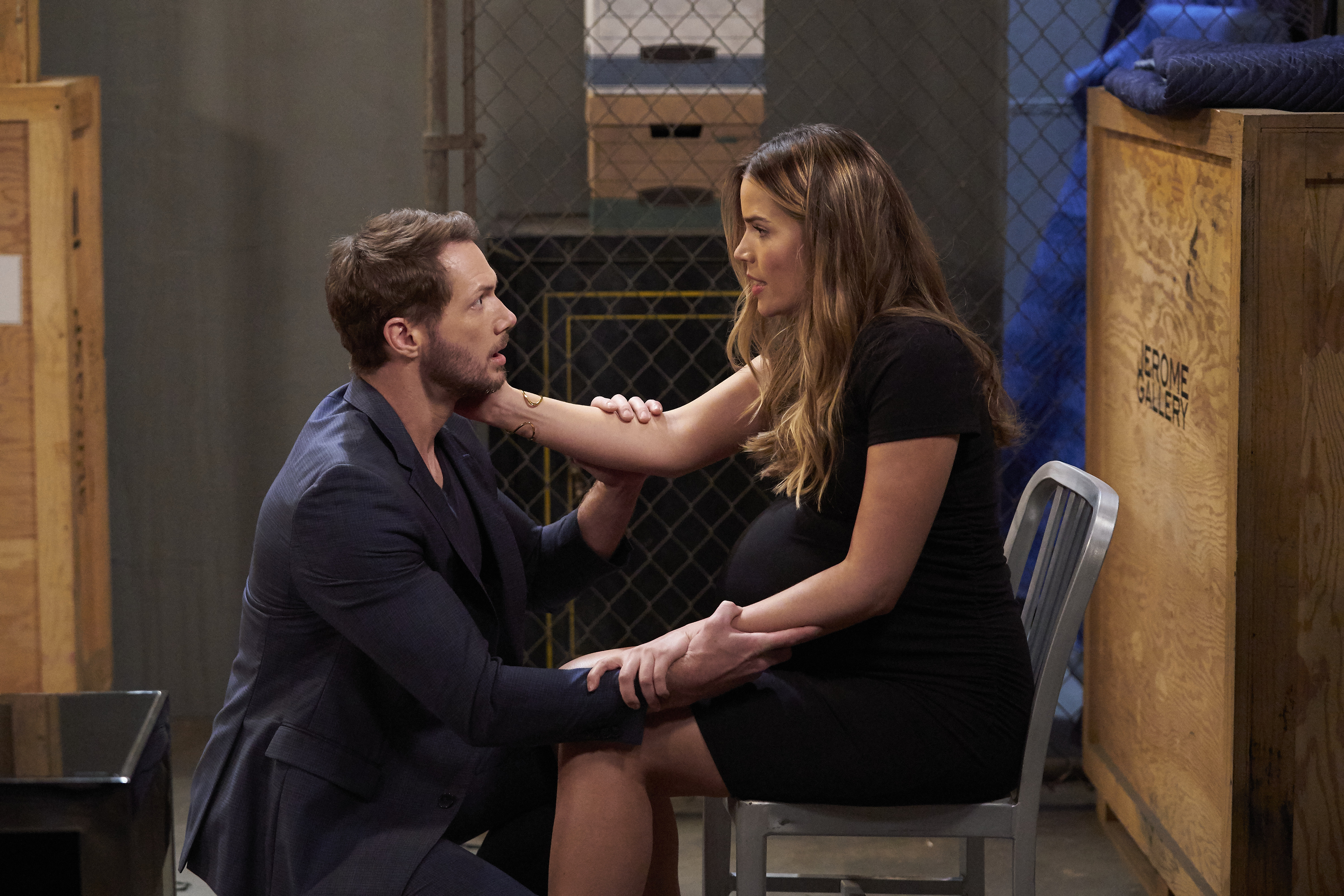 General Hospital (GH) spoilers for Wednesday, November 17, tease that Sasha Gilmore (Sofia Mattsson) will begin a scary baby delivery while Brando Corbin (Johnny Wactor) carries out a frantic search. Carly Corinthos (Laura Wright) will also seek Sonny Corinthos (Maurice Benard) answers, so here's what viewers can look forward to.
At Charlie's Pub, Carly will show up and greet a friendly Phyllis Caulfield (Joyce Guy) behind the bar. Phyllis will seem receptive to the idea when Carly suggests getting to know each other one on one.
Phyllis will have to be careful since Carly will inevitably ask about Sonny's time in Nixon Falls.
There'll be opportunities to slip up and spill too much about the nature of Sonny's relationship with Nina Reeves (Cynthia Watros), but we'll see if Phyllis can avoid the pitfalls.
Next, Nina will bump into Willow Tait (Katelyn MacMullen) and Wiley Quartermaine-Corinthos (Caleb and Kyler Ends) while they're out and about.
Nina will hope Michael Corinthos (Chad Duell) won't be too angry when he hears, so that could be about saying hello to Wiley or perhaps Sonny granting her pub privileges.
At the gallery, Dante Falconeri (Dominic Zamprogna) will join Olivia Quartermaine (Lisa LoCicero), Ned Quartermaine (Wally Kurth) and Brook Lynn Quartermaine (Amanda Setton) as they fret over missing Leo Falconeri (Easton Rocket Sweda).
Brook Lynn turned her back for a minute and lost Leo when she was supposed to be watching him, so she'll remain on Olivia's bad side.
Of course, the most important thing will be finding Leo – and Ned will think he knows where the boy went.
Brook Lynn thinks Leo must've fled the gallery, so could he have made it all the way over to GH? Leo wound up with Austin Gatlin Holt (Roger Howarth) the last time he got lost, so maybe it'll be the same outcome this time.
Whatever the case, Austin will indeed be on the show this Wednesday. Maxie Jones (Kirsten Storms) will want Austin and Brook Lynn to make peace, but Austin won't see what it really matters.
Austin will ask why it's so important that he gets along with Brook Lynn, but Maxie obviously won't reveal anything too close to the baby truth.
Back at the gallery, Brando will seem panicky as he asks Ava Jerome Cassadine (Maura West) if she's seen Sasha. Sasha told Brando she was headed to the ladies' room, but she wound up in the backroom with Gladys Corbin (Bonnie Burroughs) instead.
Unfortunately, Esme Prince (Avery Kristen Pohl) locked them both in since she assumed Trina Robinson (Sydney Mikayla) was still inside. As a result, GH spoilers say Sasha will be stuck with Gladys when her water breaks.
Gladys obviously wouldn't be Sasha's first choice to deliver her baby, but she may fear she'll have no other options.
However, Brando will be working hard to track Sasha down and may get inside that backroom just in time to help.
Regardless, this baby should be born right there in the gallery – and that could lead to trouble if there's an emergency following the delivery.
In the meantime, Sonny will run into Alexis Davis (Nancy Lee Grahn) and share his words of wisdom. He'll think that when things change, they change for the good.
Alexis may think Sonny's become a more optimistic man due to his time in Nixon Falls. She may hope some of that positivity can rub off on her now that she's free and facing some tough choices about her future.
General Hospital spoilers say several Port Charles residents will find themselves headed down new paths soon.
For FUN chat & the lastest GH gossip and news 🗞 !
Can't wait to meet you click the link below and come join us ! 🥰
https://www.facebook.com/groups/1678729102371446 👈